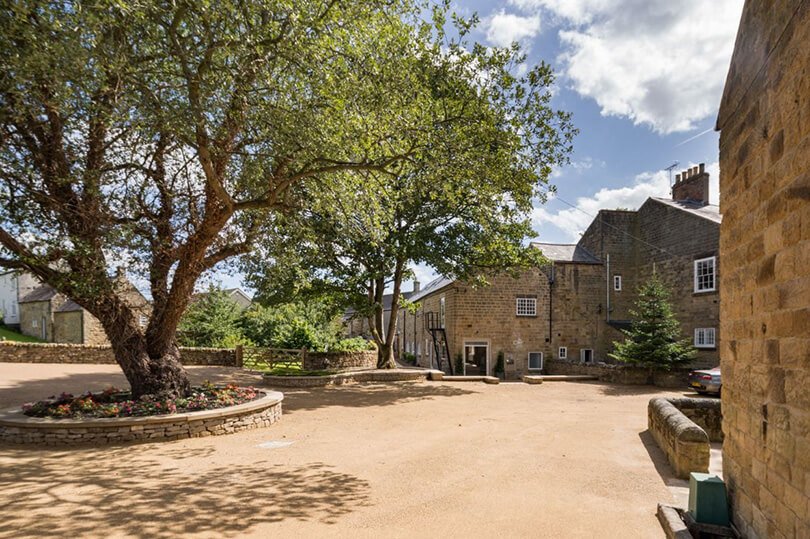 New life for old mustard mill
There's a remarkable new lease of life for a former Derbyshire mustard mill, as Barrie Farnsworth reports.

A former 19th-century mustard mill is set to become a start-of-the-art base for businesses after an award-winning restoration. The mill at Toadhole Furnace, near Oakerthorpe, became a base for the manufacture of fine furniture early in the last century: hence its new name, the Amber Mill Furniture Rural Enterprise Centre (known by its acronym Amfrec). After a three-year restoration project, it was awarded a Commendation in the 2021 Derbyshire Historic Buildings Trust awards for the Reuse of an Historic Building.
Amfrec owner Ann Turner, who inherited the property as well as adjacent Amber House, where she lives, said she had always had plans to restore the mill: "The property is Grade II listed, so I could not convert it into residential accommodation, so it had to be for commercial use. "We approached North East Derbyshire District Council, who were very helpful, and we were fortunate enough to receive European Union funding as well." Ann added: "It proved to be the worst possible time to carry out such a large-scale renovation, as the pandemic came along, but the results are dramatic. The mill has been transformed into an inspirational working environment."
Designer and chartered surveyor, Tim Nutter, who oversaw the project, said: "It has been wonderfully rewarding to resurrect a derelict building, bringing it back to life for a new era. "We have restored and exposed the Derbyshire stone and opened up the original arched windows, creating an open-plan interior that is light and airy." According to extensive research by local historian, Mr RIchard Patilla, Amber House and its associated building were not present on the Shirland Manor map of 1762. The first record showing significant detail of these buildings is the 1983 Gratton map of Shirland. The window arches on the south wall of the mill have the initial 'D' and 'H', with '18' and '17' inscribed at the top. DH were the initials of local tanner David Hopkinson – an active member of local Quakers, whose burial ground is close by – who built the mill in 1817, possible as a warehouse initially. He died in 1822. In the 1841 census at Church Street, Alfreton, was a 'mustard manufacturer' called Francis Thompson, who had married Elizabeth Everingham in 1836 at Alfreton. By the time of the 1851 and 1861 censuses, Francis and his family had moved to Amber House, and were using the adjacent mill to manufacture mustard. It appears likely that Francis' father-in-law had bought the property in 1844, since Turbutt says in his book on 'Shirland and Higham' that the owner of the building in 1849 was a Samual Everingham and it was occupied by Francis Thompson and family. In October 1864, however, after a meeting of creditors in a court in Sheffield, Francis Thompson was 'adjudicated bankrupt' by a Registrar. At a further hearing in December that year, losses in bad debts were estimated at just over £1,108 (equivalent to £150,000 today). Francis attributed the downfall of his mustard business to 'losses on foreign consignments'. The court was told that Francis had given 'undue credit to parties a long way off, including Madras, Ceylon and Adelaide'. Francis died in 1867.
The 1871 census reveals a new man in charge of operations at Amber Mill. He was 25-year-old Thomas Young Lakeman, who hailed originally from Bodmin in Cornwall, described as 'mustard manufacturer'. But his business did not last long, because it ceased in 1875 and there was an auction – probably covering Amber House as well as the mill – of 'dining, drawing and bedroom furniture, kitchen requisites and other effects' at the George Hotel in Alfreton in June that year. Both Amber House and Amber Mill are mentioned in the famous book, Pevsner's Architectural Guides to The Buildings of England – Derbyshire. Ann's grandfather, furniture manufacturer John Turner, purchased Amber House and Mill in 1909. Sadly, the mill was destroyed in a fire in 1955, but Ann's father Reginald restored it and carried on the family furniture business until his death in 1972. Ann's mother Margaret, an interior designer, kept the business going into her late seventies with the help of wonderful craftsmen who knew how to make furniture to last. "I recall people buying threepiece suites from us and, years later, bringing them back to be reupholstered," Ann said. "The family built things to last, that's for sure!" Now Amfrec is an open-plan commercial site looking to host businesses, and creatives – like photographers, modelling agencies or video and TV production teams – seeking a flexible environment within which to grow their business. The two-storey building has two kitchens and even a shower room.